Kasia and Ebony hosted a wonderful evening this week to present their experience of Chicago after being awarded the 3DReid Lee Harris Bursary 2023.
The Lee Harris Bursary commemorates a talented colleague and his girlfriend, Sam, who we very sadly lost in the 2005 London Bombings. Inspired by Lee's love of photography, travel and architecture, the bursary was established to provide an opportunity for the young designers of 3DReid to travel anywhere in the world and explore their architectural passions. On their return, a special evening is held in the London studio where we all get together and are joined by Lee's wonderful family to hear about the designer's travels.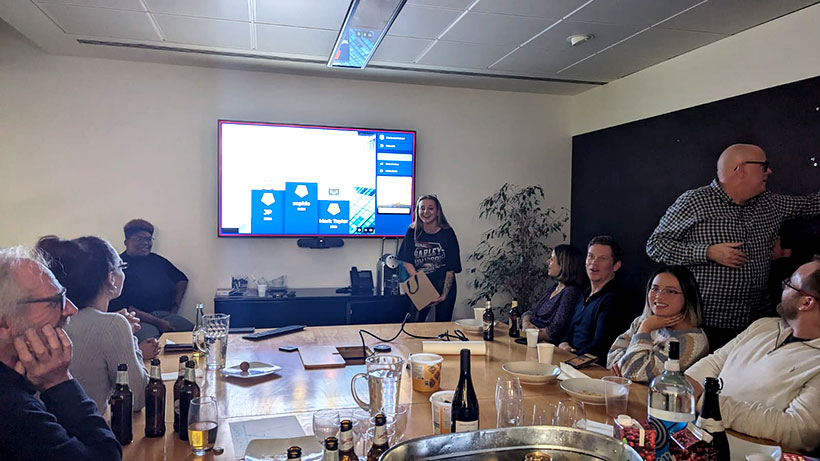 The focus of Kasia and Ebony's trip to Chicago was on the interplay between light and architecture and to explore the relationship between Chicago's rich architectural history and the influence of the great lake that surrounds it. Kasia and Ebony drew comparisons between the challenges and feats of design of both Chicago and Lake Michigan, and London and the River Thames. Both cities, despite their different aquatic settings, grapple with the imperative need for natural light. From exploring this, they learned and presented to us their gained understanding of how diverse architectural approaches can meet the universal need for natural light.
We were able to experience their visit for ourselves through the wonderful photos and videos they took of the iconic architecture such as Willis Tower, the Rookery Building and the works of architects such as Frank Lloyd Wright and Ludwig Mies van der Rohe. They also expressed how special it was, as two women in an industry striving to prioritise an agenda of equality, to visit the Aqua Tower, designed by the famous Jeanne Gang – female architect and founder of Studio Gang.